Doodling is a great, fun way of expressing yourself. But it's often underrated as an art form. Yet doodle art can help you learn how to draw and make a great addition to your design portfolio – as highlighted by these brilliant examples. Combining child-like doodles with expressive illustrations, they show how doodling can be used to create beautiful and arresting designs. Who knew there were so many doodle art styles?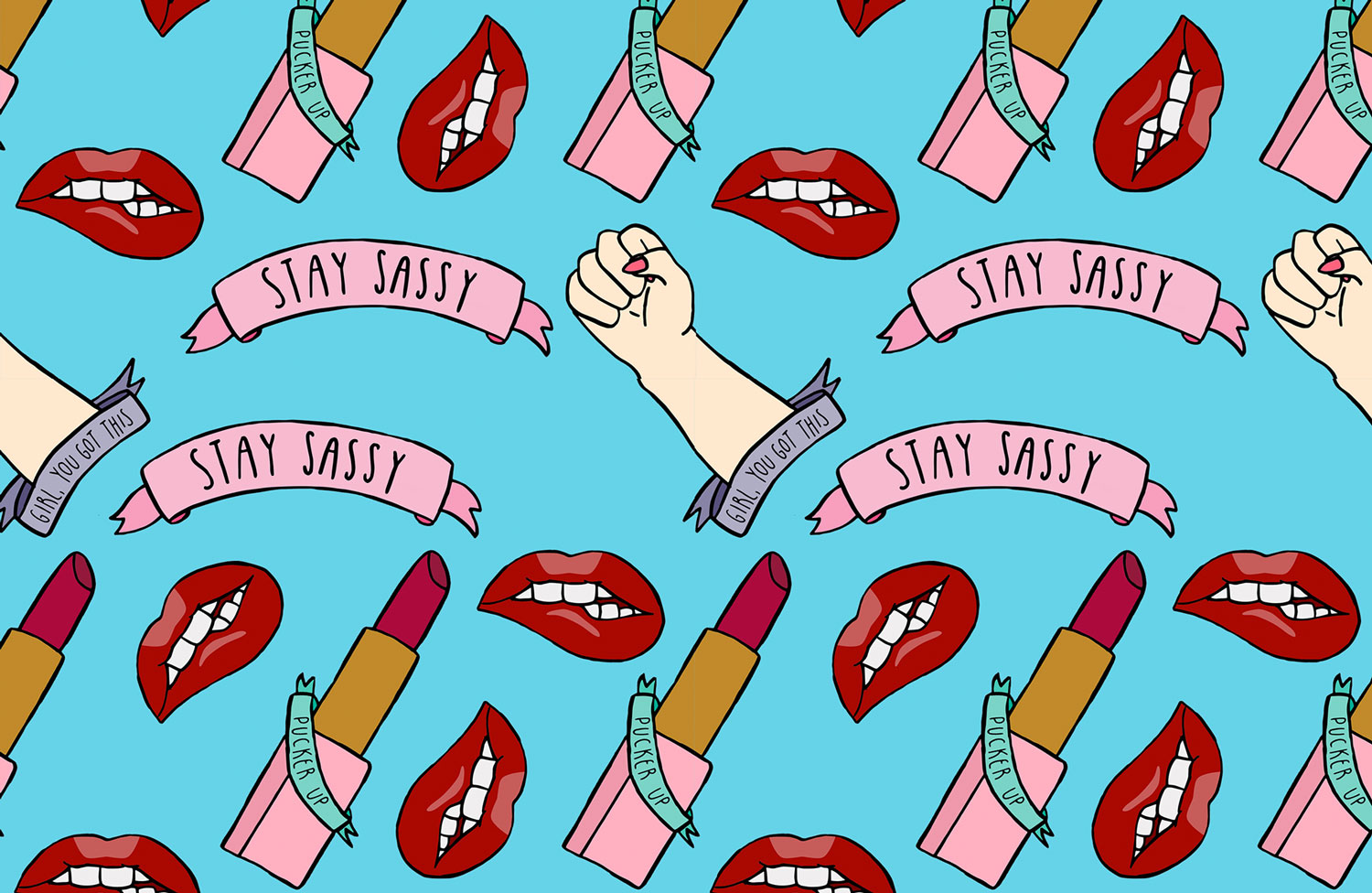 Based in Berwick-Upon-Tweed, Tessa Shearer is a designer and illustrator who specialises in the cheery and quirky. Her eye-catching doodle style is inspired by a strange mix of Japanese and vintage artwork, as well as the tastes of her three young children. If you like what you can see you can buy her range of limited edition art, jewellery and accessories at her online store, House of Wonderland.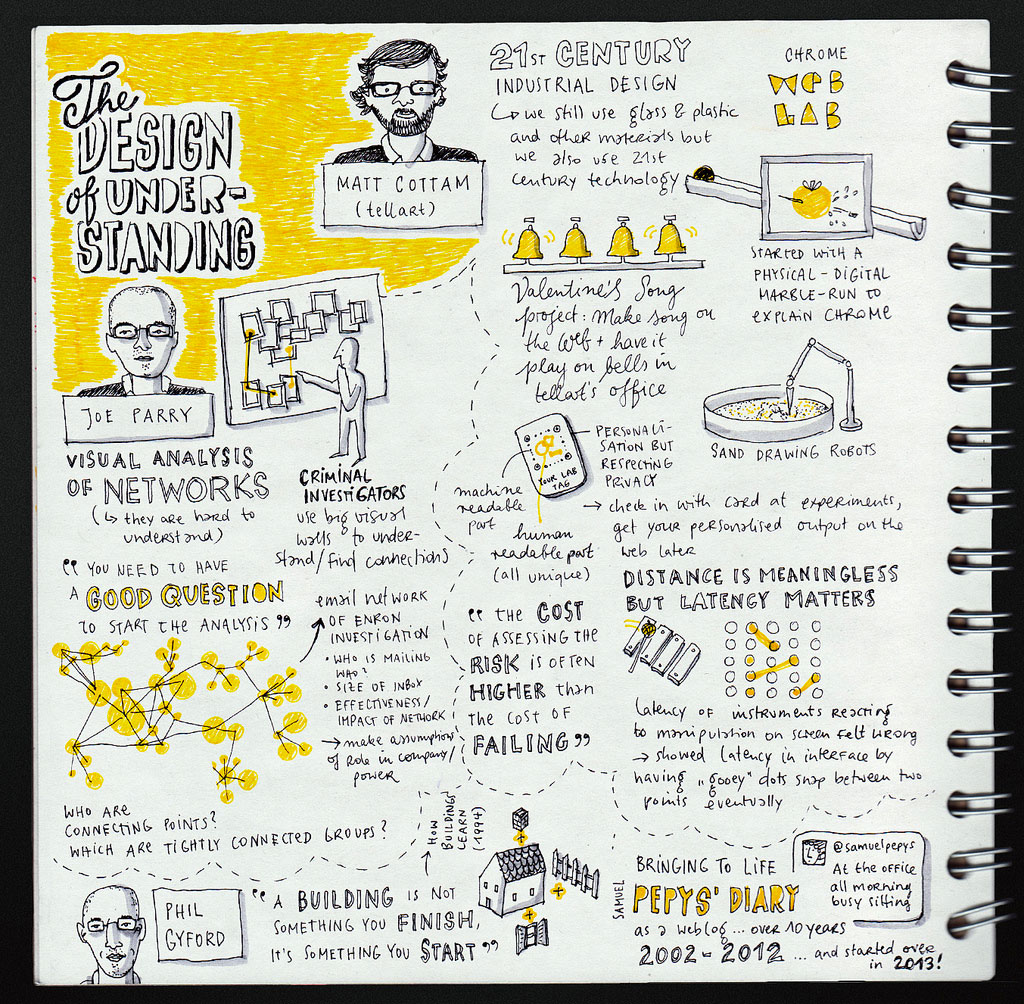 User experience designer Eva-Lott Lamm does web and interface design for Google as her day job, but enjoys graphic design and illustration as well and has made a name for herself with her series of sketchnotes: doodled notes from conference talks that add a fantastic visual element to boring old note-taking. She's even collected her sketchnotes into four books as well as a series of posters; find them all here.
This South Korean artist is the master of the doodle. Taking to blank walls when he's not capturing his improvised art in a sketchbook, Kim has become world famous for his on-the-spot epic doodle masterpieces.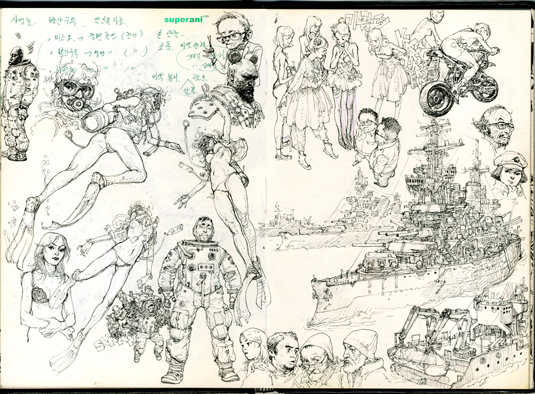 In Kim's case, seeing is believing, and thankfully his YouTube channel is chock full of brain-tinglingly amazing pieces.
The artist says: "I observe things all the time. I don't take references while I'm drawing, but I'm always collecting visual resources." Take a dip into his sketchbook!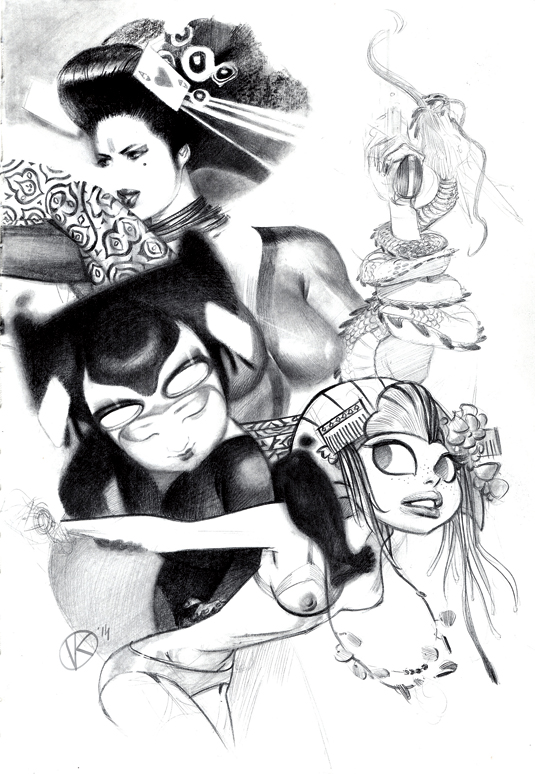 Born in Bulgaria, where he earned a master's degree in fine arts, Viktor moved to the US to work in video games, and produced the graphic novel Pherone and crime series Blue Estate, the latter of which received two Eisner nominations. He now lives in Paris where he's opened a studio and developed a video game.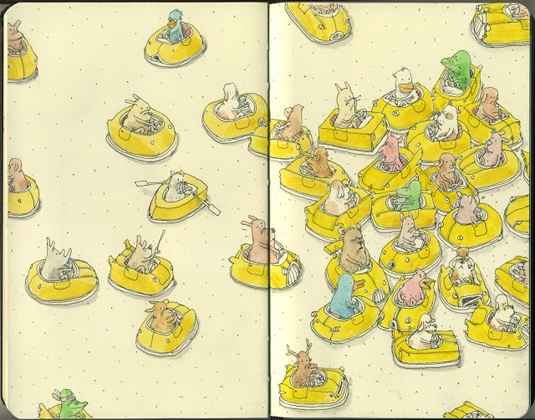 Working with everything from computer games to children's books, you will be hard pressed to find a better doodler than Swedish based illustrator Mattias Adolfsson. Take a look through the pages of his sketchbooks to see what we mean.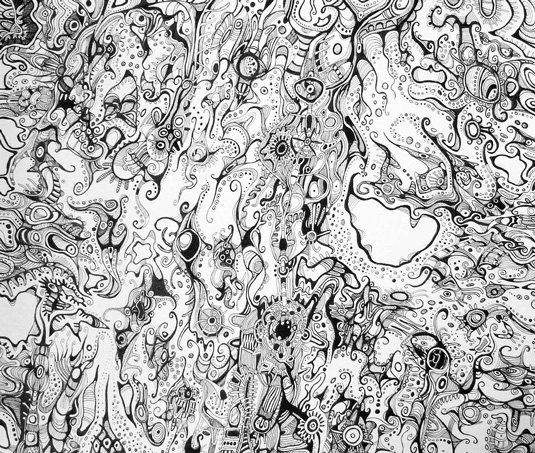 This energetic, yet calming doodle was created by artist Faith Georgia. A super-talent, Georgia has created numerous, beautiful, black and white and colour-filled doodles, all of which can be found in her awe-inspiring Flickr portfolio.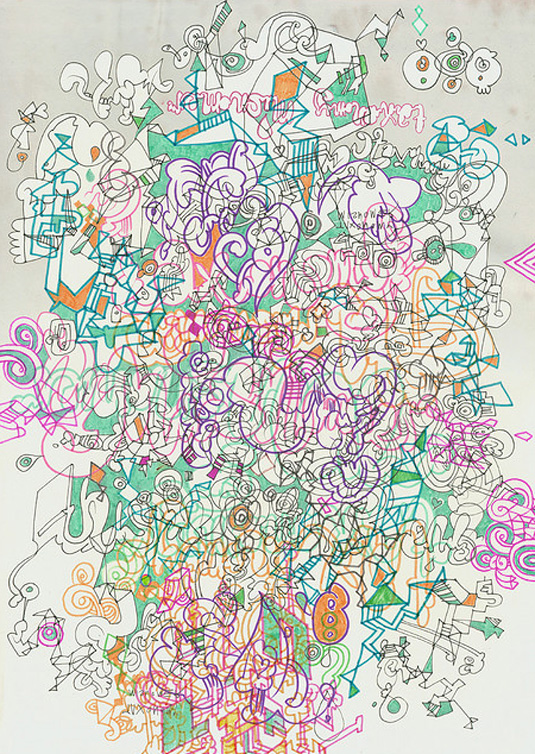 Matt Lyon is the London-based graphic artist and illustrator behind this colourful and chaotic doodle. He comments on his website: "My work stems from incessant doodling, often laced with wild colours, shapes and patterns." Indeed it does. And we love it!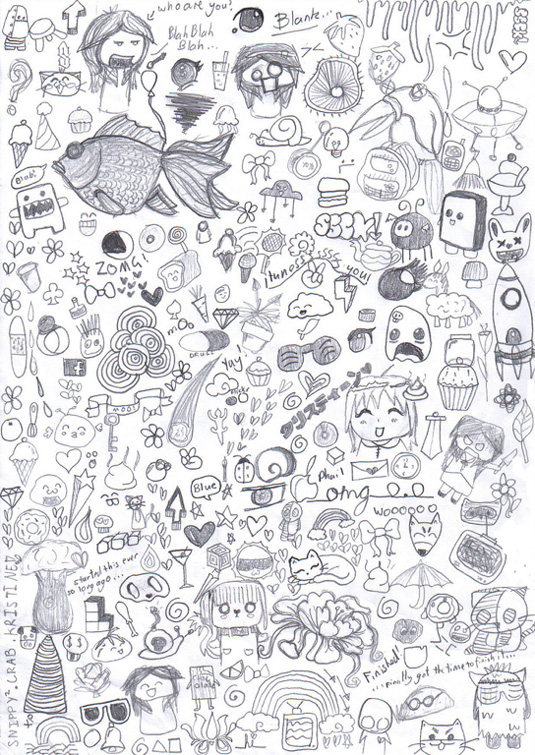 After months of procrastination, the artist that goes by the name of Snippy Snippy Crab Kristine completed this completed this set of entirely random doodles. This talented artist spends much of her time creating gorgeous Manga artwork, with any spare minutes spent doodling lovely creations such as this in her skecthbook.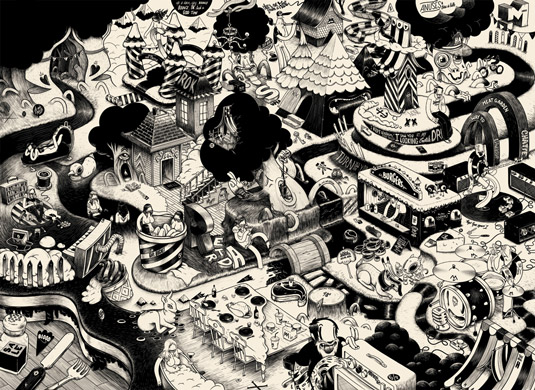 Matthieu Bessudo, aka McBess, is a French illustrator living in London. With a passion for illustration and music, Bessudo always tries to mix the two in his work. A super-talent, his doodle art features a mind-blowing amount of detail.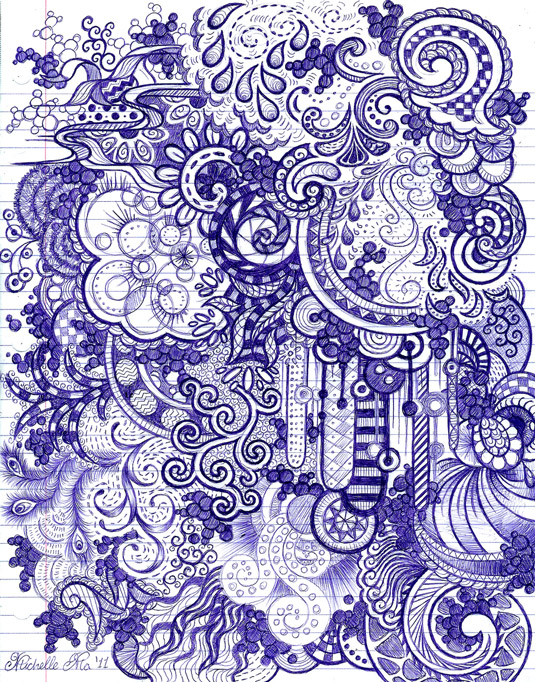 High school student Michelle aka GenerallySpeaking is the lady behind this intricate ink doodle. Covering a book from one of her notebooks, this is doodle art at its best. Using a simple biro, Michelle began the detailed illustration in the top-right corner, allowing organic shapes to flow around it until covering the entire page.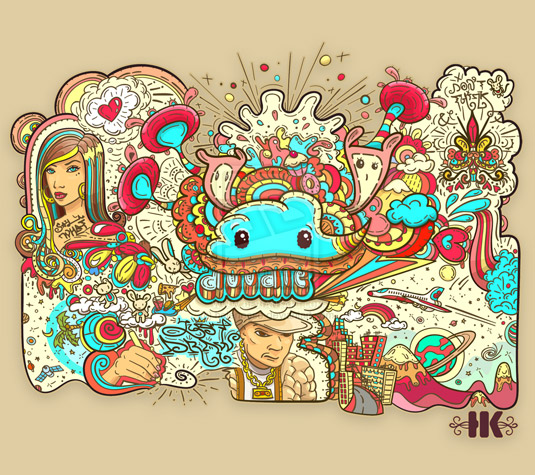 Helen Kaur is a full-time graphic designer and part-time illustrator from Singapore. As part of her development and illustrative work, Kaur creates vibrant doodles in her spare time. And while we're not taking anything away from black and white doodle art – it rocks – it's great to see such a mixture of colours amongst all the detail in this drawing.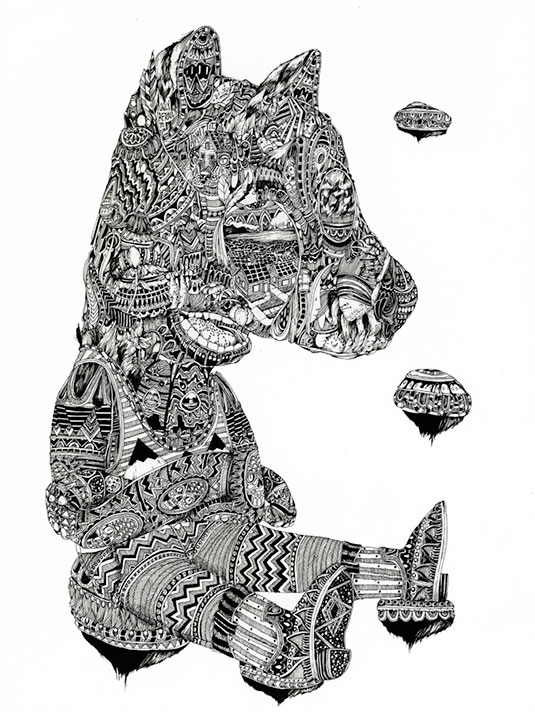 Pat Perry is a superbly talented artist who, as his mind wanders, inscribes in ink some truly surreal and attention grabbing imagery. A daily practice for the Michigan born artist, drawing helps Pat to work through the complexities of life and thankfully for us acts as a remedy for all we find mundane in day-to-day living.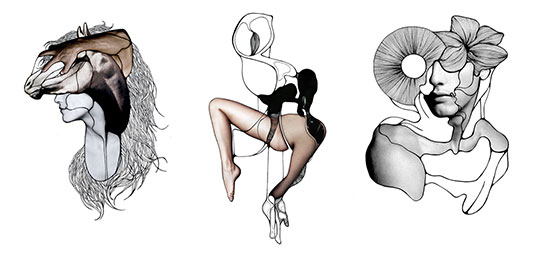 Géraldine Georges worked as a graphic designer for seven years before starting to freelance as an illustrator in 2006. The Belgian artist's collages are a perfect blend of photography and illustration, beautiful and elegant images that seep emotion.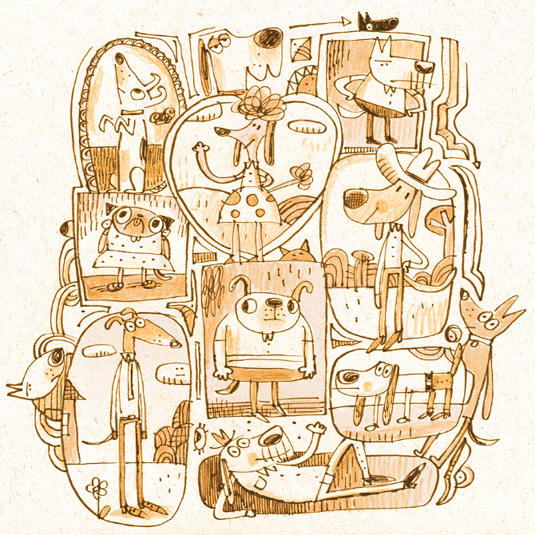 Inspired by The Muppets, Quentin Blake and the Flintstones, Fred Blunt has been a compulsive doodler since he was in hand-me-downs. His cute characters are an instant source of cute and child-like inspiration that'll have you harking back to your childhood.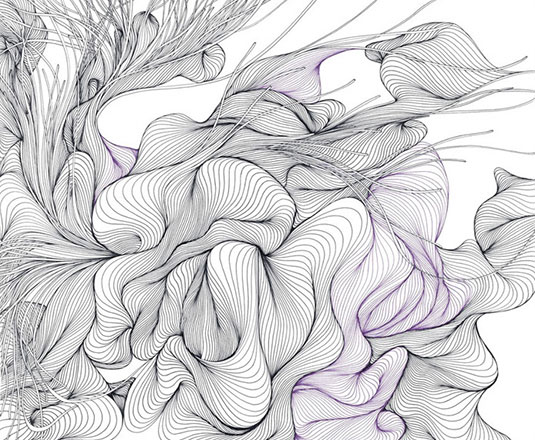 Justine Ashbee takes a line for a walk and your eyes go along for the ride. Lines and forms evolve and grow organically in her vast amorphous drawings. Intuitively composed, the Brighton based artist's drawings start with a curve and end in a mesmerizing undulating visual experience.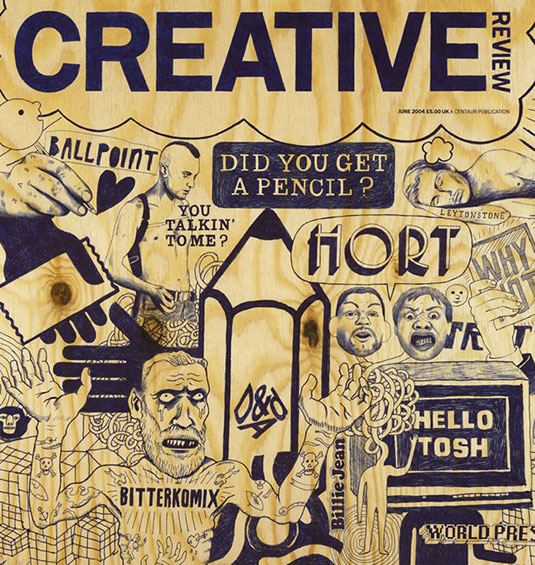 Billie Jean is not my lover. Billie (a 'he' in case you're interested) has created entanglements of ballpoint pen for many notable clients. Creative Review and Nike can be counted amongst the many who have commissioned the services of this London based, tree climbing, doodle maestro.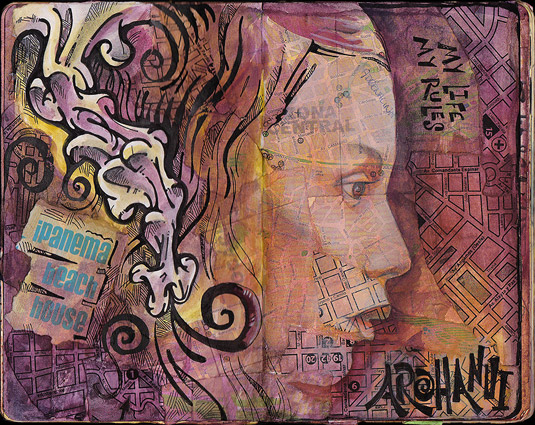 It's hard not to be a little jealous of artist Eric Olmstead. Not only is he super-talented, he's also travelled all over the world, capturing the essence of each destination through brilliant illustrations and collages. This is just one piece Olmstead created in Brazil during a six-month tour of South America. He's also spent 18 months in Japan, been to Australia, New Zealand, the US – and there's at least one sketchbook full of amazing artwork for each.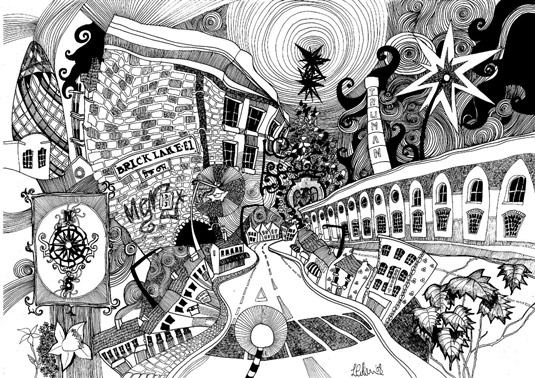 Lizzie Mary Cullen is a multi award-winning artist based in London. A natural talent with pen and ink, Cullen's doodle art has attracted the attention of many leading brands, including the BBC, MTV and Harvey Nichols. This intricate depiction of Brick Lane, is just one from Cullen's brilliant series titled London psychogeographies.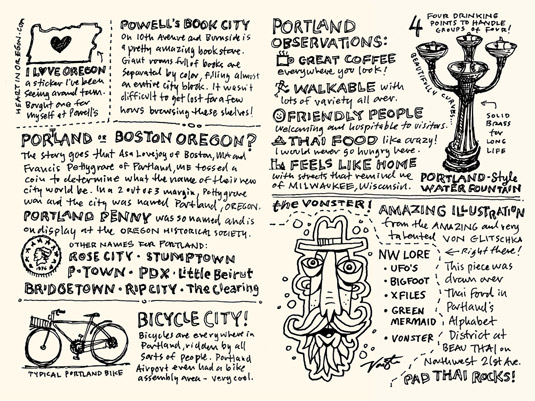 Mike Rhode is a designer who loves to read, write and draw. For the latter, he takes a Moleskin sketchbook everywhere, keeping a visual journal of his travels. We particularly like this piece taken from Rhode's Portland sketchnote travelogue, in which he records facts and thoughts with brilliant little sketches and typography.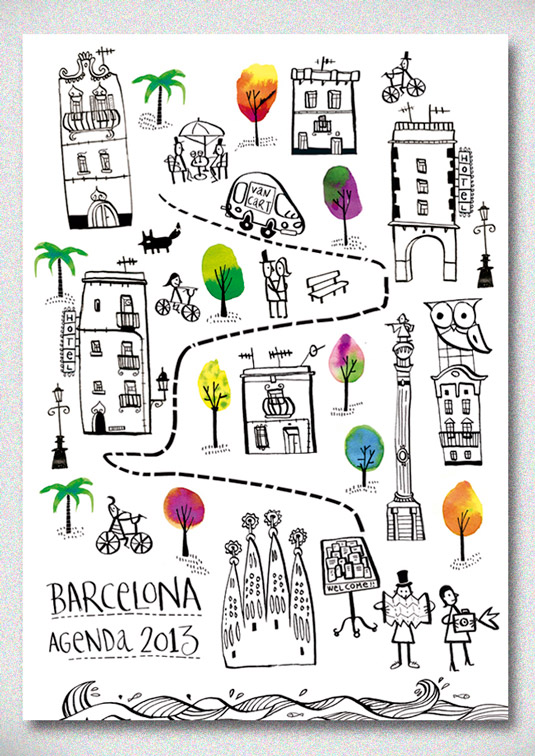 We love the playful style of Spanish illustrator and designer Amaia Arrazola. After working in an advertising agency for a couple of years, Arrazola now works as a freelance artist in Barcelona. She comments on her website, "I like silly drawings, graphic design, serigraphy and typography."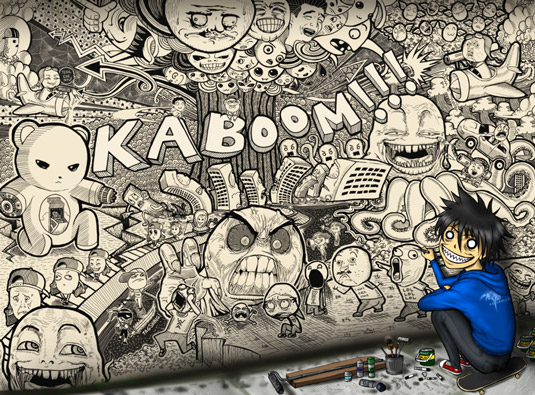 Richard Romare is a web designer based in the Philippines who also works as a freelance multimedia artist. Wanting to experiment in different artistic disciplines in his spare time, Romare comments on this one-off piece, "I'm not that comfortable with doodle arts, I was just trying something different."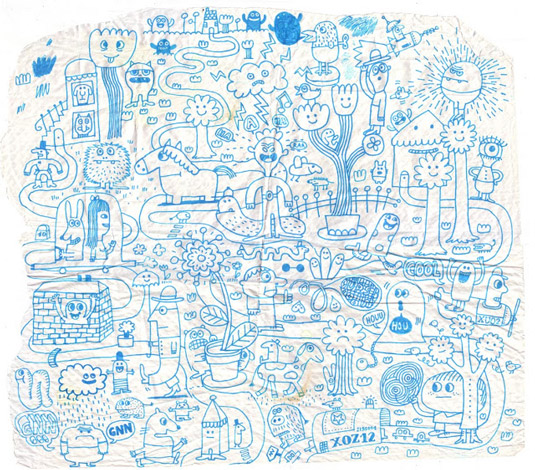 Artist Delphine Durand has a treasure trove of sketchbook work online. For the most part, she creates magical and bizarre monsters and characters, some of which have been used to illustrate Chronicle Book's Big Rabbit's Bad Mood. As well as commissioned works, Durand spends much of her spare time doodling unusual worlds and creatures, like this piece hand-drawn on a restaurant napkin.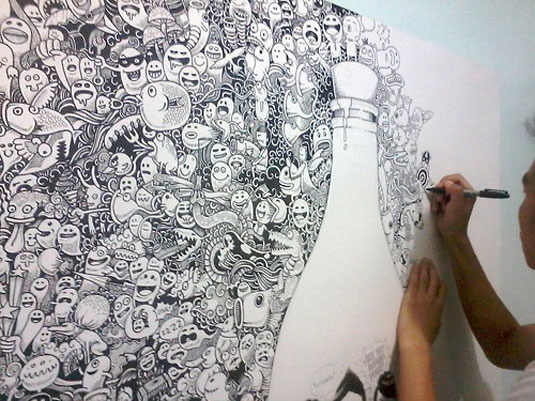 Kerby Rosanes is a graphic designer and SEO specialist with a passion for art and doodling. His work, which he post regularly on his Sketchy Stories blog, exists at various scales and his striking attention to detail makes each piece unique and original.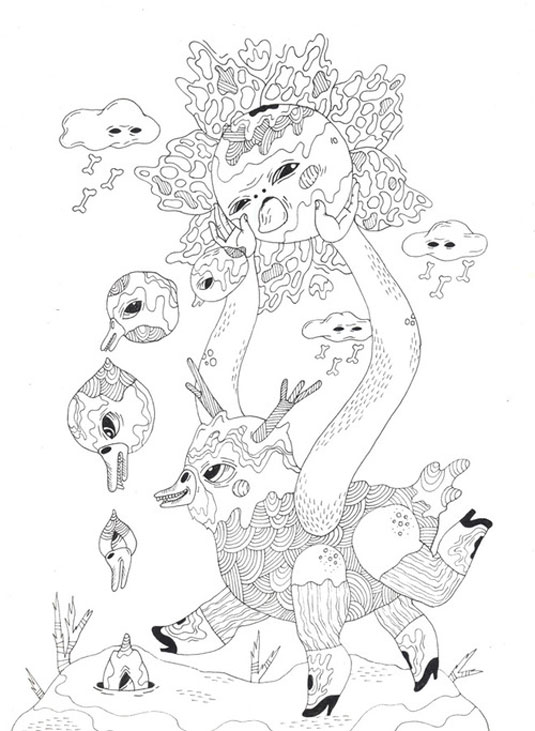 Irena Zablotska is a talented illustrator who uses multiple techniques to communicate the original world she's created through illustration and doodle art. Her art has been exhibited across the world, from St Petersburg to San Jose.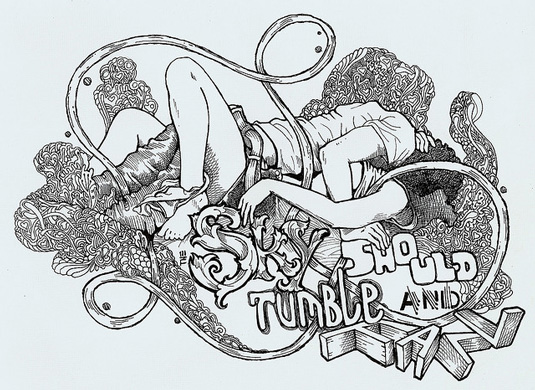 If you like this particular style of doodle art then you should definitely check out the Flickr account of Jabson Rodrigues, which is overflowing with stunning sketches like the above. Titled 'Falling', the illustration features two people intertwined by Rodrigues' gorgeous, fluid doodles next to the words 'Sky should tumble and fall'. Just beautiful.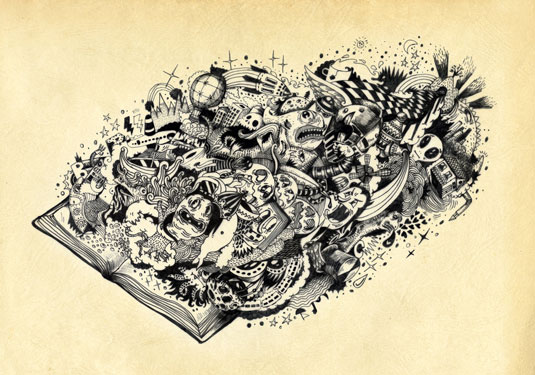 This remarkable Romanian illustrator and artist is another example of how doodle art can be taken to a commerical, professional level. The intricate imaginary worlds he creates are both fascinating and unique.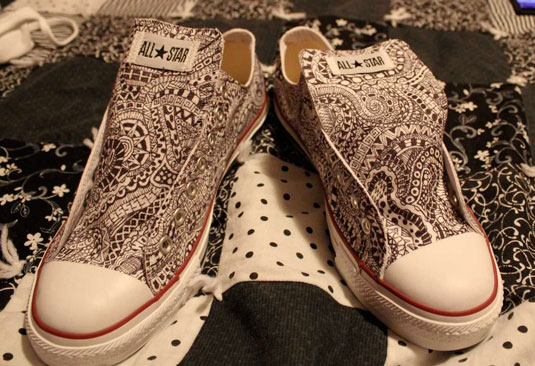 Craft, drawing, and fashion combine in one amazing project. Lisa Krasse has combined her love of doodling with a love of Converse shoes to create these amazing sneaker designs. Check out the rest on her Behance profile.
Next page: more great examples of doodle art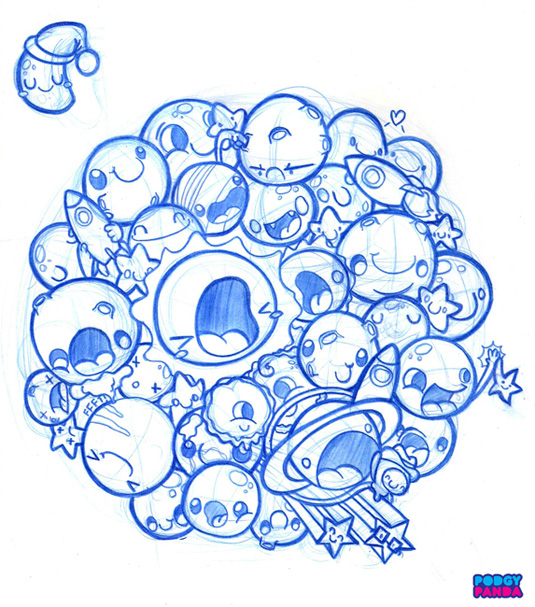 PodgyPanda, or Richard Kuoch as his parents like to call him, is an artist, illustrator, animator and graphic designer from Auckland, New Zealand but is now living it up in London. Creating cute digital illustrations, apparel and design toys such as Jerk Jigglypuff, PodgyPanda also doodles. A lot.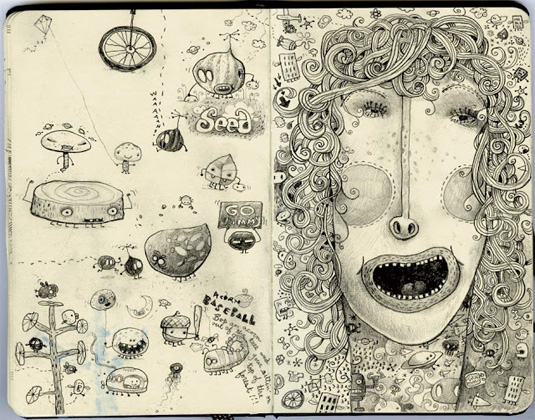 New Jersey illustrator Jim Bradshaw has been doodling away since he could pick up a pencil. By day, he works as an art director but by night Jim tackles all things creative and is never far from his Moleskine. His doodles open up a weird and wacky world that often includes creatures from outer space and walking tree stumps. We love it!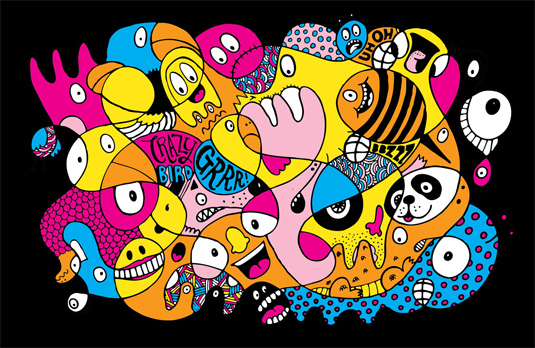 Describing himself as an 'illustrator, formerly known as designer', Chris Piascik fast became a well-known face in the doodle art world. Based in New England and with more than eight years of professional experience, Chris embarked upon a 'daily drawing' challenge back in 2007. Once he'd done 1000, he published them in a book entitled '1000 days of drawing'. He continues to doodle to this very day.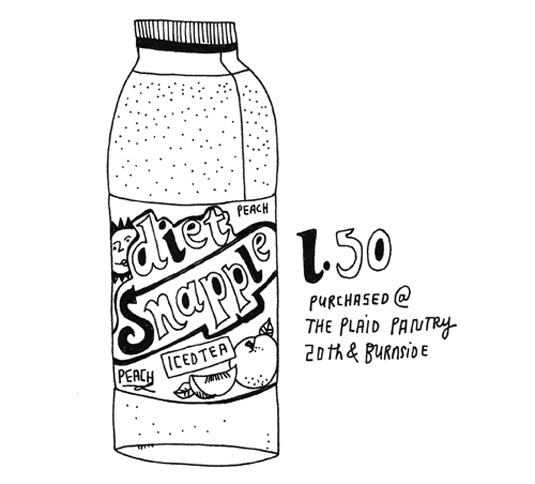 Becoming obsessed with consumerism back in 2006, illustrator Kate Bingaman-Burt decided to document her daily purchases with a doodle. Staying with the consumption theme, Kate draws her doodles on to receipts and credit card statements. What a creative and fun way to showcase your personality and your buying habits!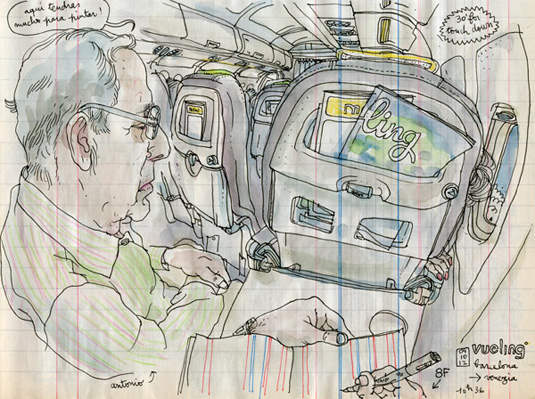 Lapin is a French illustrator, living between Barcelona and Paris. He travels daily with his sketch books, documenting his day-to-day escapades. He has already filled around 150 sketchbooks for the last 10 years and particularly appreciates sketching on vintage accounting books that he finds in flea markets. He even leads doodle workshops at universities and art schools.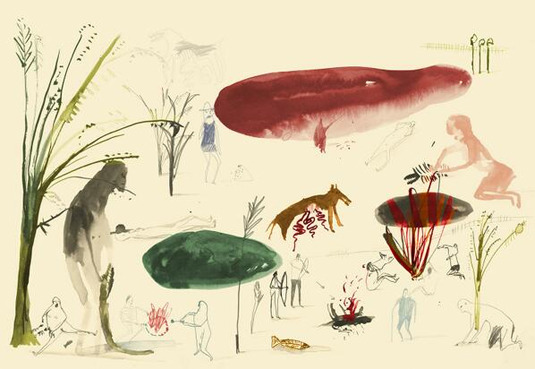 Winning the D&AD New Blood award back in 2011 was just the start of Faye Moorhouse's impressive illustrative career. Her portfolio is packed full of weird and wonderful creatures, characters and doodles and this one is a particular favourite.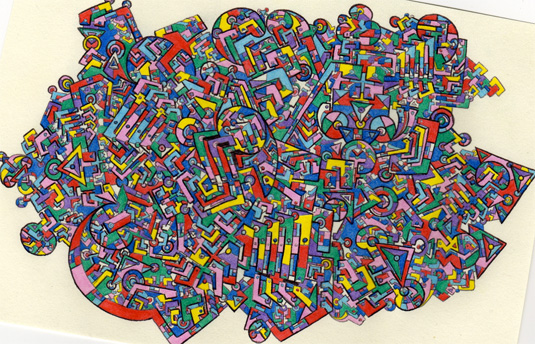 Davivid Rose also goes by the name of jdy333 and describes himself as a "poet and hallucinographic designer". His doodles offer a weird and wonderful insight into his creative mind, including this colourful creation which took "lots of patience and lots of coffee".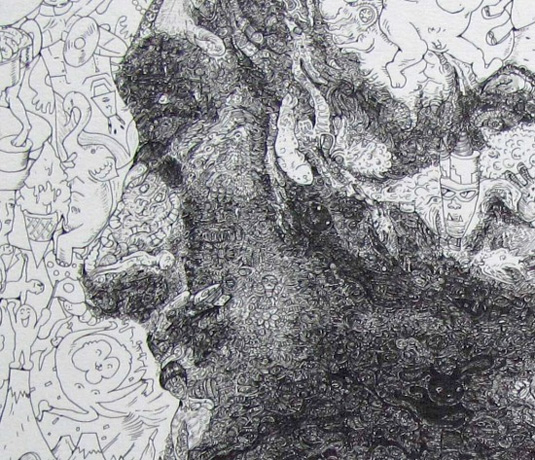 Japanese artist Sagaki Keita specialises in recreating classic masterpieces by covering them in these gorgeous child-like doodles. Even though the doodles themselves are simple, once you look further away from the drawing, you realise that Sagaki has taken the time to ensure they blend together perfectly.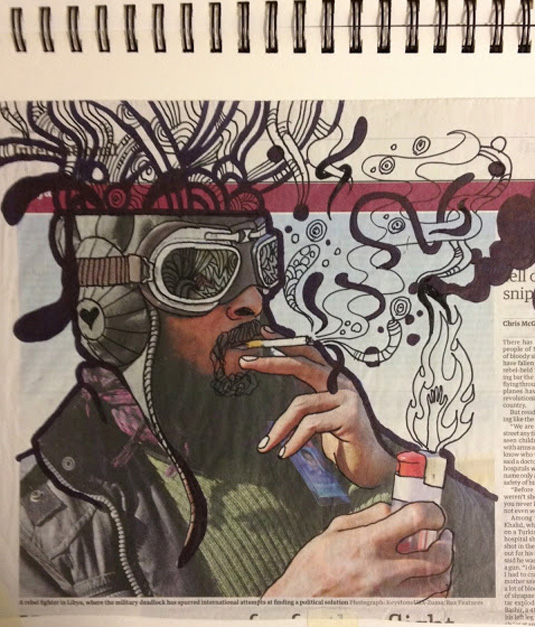 We don't know much about UK artist Paperchap but what we do know is that he is a commuting doodler. Every day, he travels between Shoreham By Sea and London Victoria, which leaves him with rather a lot of idle time – so her doodle all over the newspapers. Now, that's a creative commute.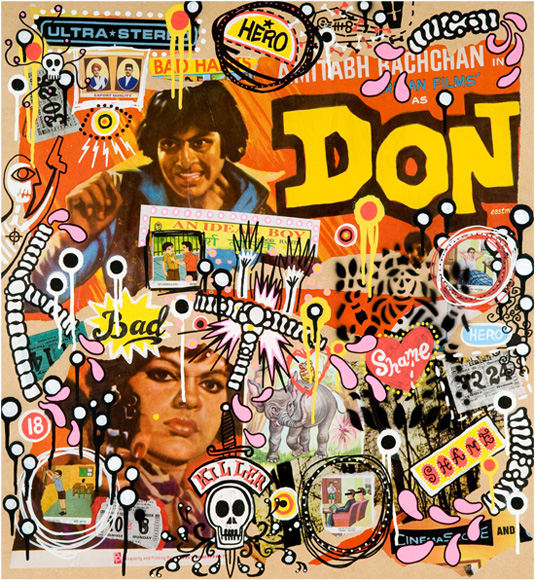 Starchild is an artist with a mission – to create a visual language to explain a culture which is vibrant, dark yet familiar. Using mixed media he'll "cut, paste and create from the giant pile of junk that is the Universe". Each of his pieces tells a different story and could be interpreted in hundreds of ways. We love how he has encorporated mixed media into the doodle artform.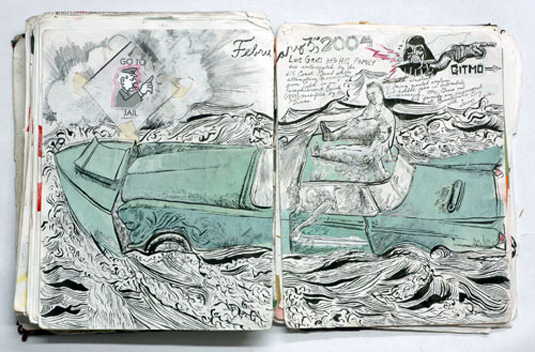 Ted McGrath basically represents what doodle art is all about. It's about the imperfections that come together to make a stunning creation. His notepad is jam-packed full of colours and sketches that span an array of subject matter. We think this car/boat offering is definitely one of his best.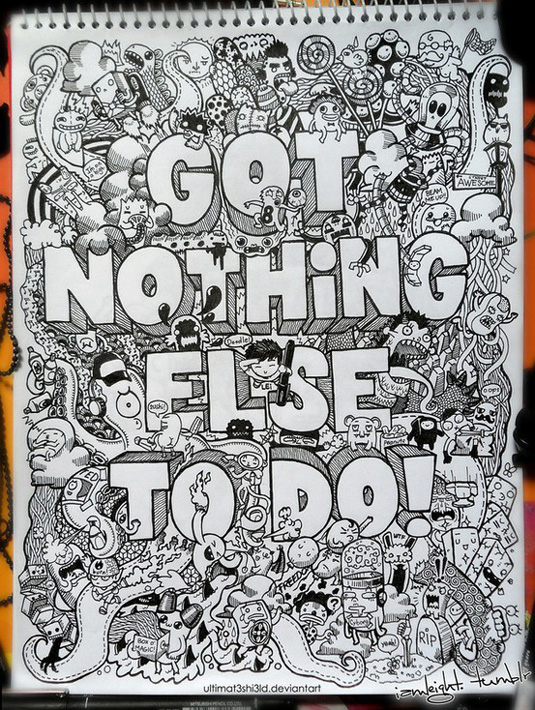 When artist Lei Melendres has nothing better to do, he doodles. And this is just one of many pieces he has created as a result. Fully utilising his spare time, the crazy-talented illustrator uses a black marker, neat lines and no space left un-doodled in his work.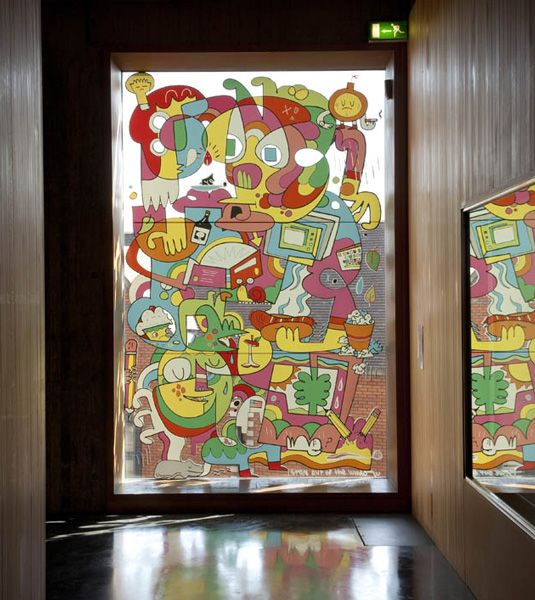 Jon Burgerman is best known for his colourful, fluid and playful creations and this one is no exception. Titled 'I stare out of the window', Burgerman was commissioned to create this piece for one of the New Art Gallery Walsall's large-scale windows.
The brief was to depict the trials and tribulations of being an artist, including creating a concept, playing with ideas, taking a break and checking emails.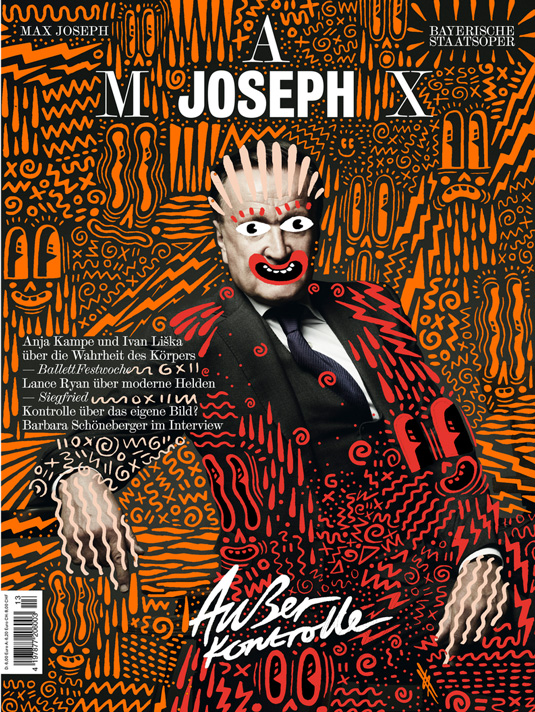 Bold and beautiful, this gorgeous piece is the work of illustrator Hattie Stewart. Commissioned by graphic design studio Bureau Mirko Borsche, Stewart doodled this awesome cover for Bavarian Opera magazine Max Joseph.
Best known for her 'doodle bombs', Stewart frequently redesigns magazine covers with her own twist. Her unique style has landed her work with many leading brands, including Adidas, Diesel, and Marc by Marc Jacobs.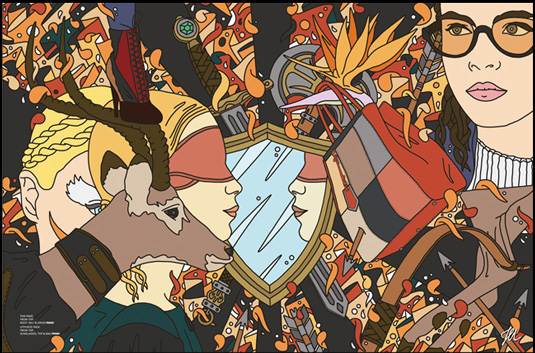 Flavio Melchiorre, is an italian artist, award-winning designer, illustrator, painter and founder of creative design studio IDRO51. Best known for his distinctive hypnotic style, Melchiorre created this gorgeous piece for the Japanese fashion magazine commons&sense, inspired by the Fendi autumn and winter 2012/13 collection, designed by Karl Lagerfeld and Silvia Venturini Fendi.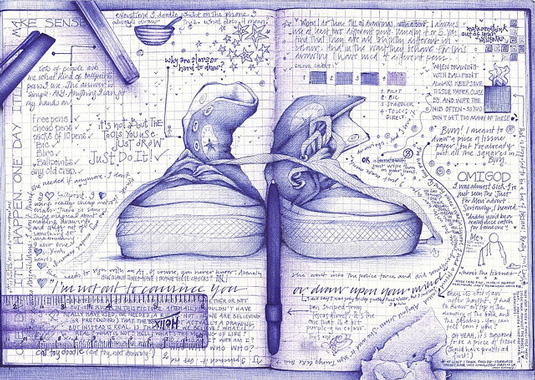 Now this gorgeous illustration by Andrea Joseph takes us back to the days of school excercise book scribblings and random jottings. Although ours looked nowhere near as good as this! Joseph created the brilliant design using only ballpoint pens, which features a beautifully worn pair of Converse and frighteningly realistic stationary. Absolutely stunning.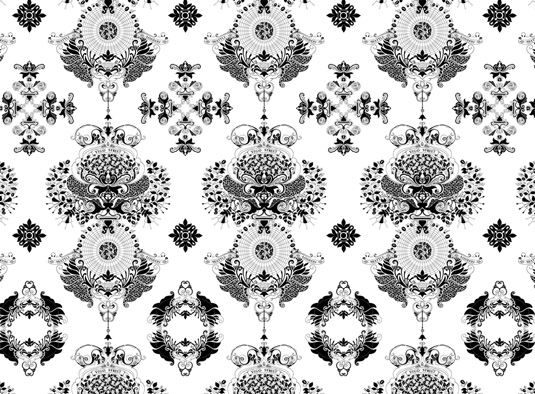 The unique doodling style from artist Johanna Basford managed to bag her this commission from international coffee company Starbucks. After persistently sending the company paper cups with her artwork on, Johanna was asked to design a wallpaper for the redesign of Starbuck's Vigo Street store in London. Hidden within the flourishes are tiny coffee cups, elusive birds, and the odd Frappuccino…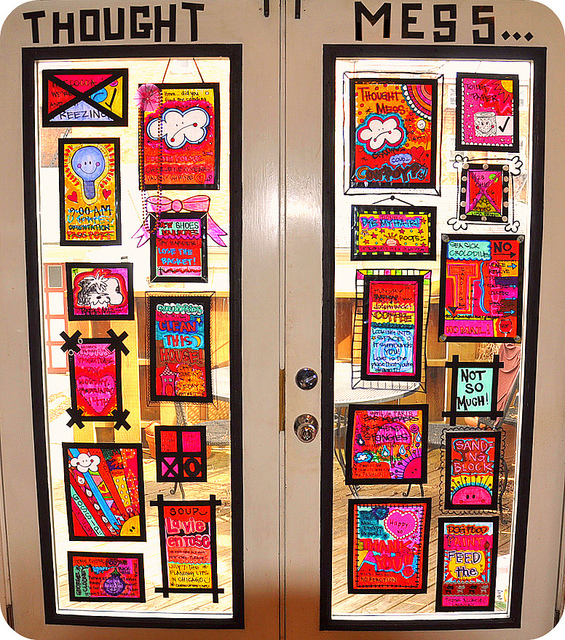 We love the fun and playful mind of US-based artist Kristin Krause aka Eklektick. Both her home and studio are full of colourful artwork such as these random doodles titled 'Thought Mess'. For one month, Krause stuck sheets of paper to her walls and then wrote and sketched her thoughts on each. A brilliant idea from a very talented artist.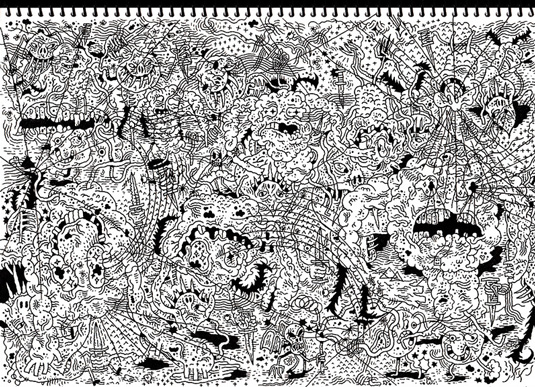 Super-busy is the chosen style of talented artist Rowan Tedge, who, believe it or not, doesn't draw for a living. Many of his designs are created on his train journey to work. With limited space on public transport, Tedge works in small sections at a time adding more incredible detail each day.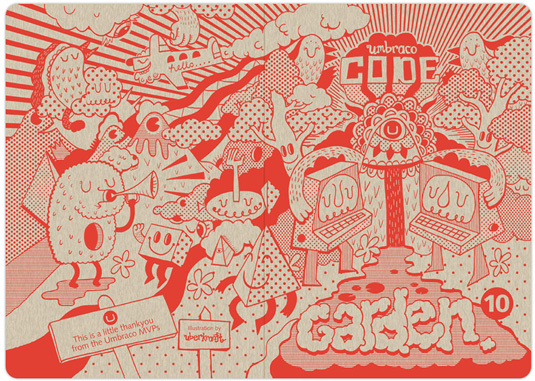 This colourful, fun and playful artwork was created by freelance illustrator, artist and designer Matt Williams aka Uberkraaft for the Umbraco community. Keen to not stick to a particular style, Williams says on his website: "I'm anti-style and work across a lot of media adapting my work to fit the brief. I can practically turn my hand to any style to fit any project."
Tower Hamlets College tutor Zak Peric and 11 of his commercial graphics and digital illustration students were behind this cool wall doodle. Using only back ink, the team worked on this piece of doodle art for three full days, the aim of the project being to encourage students positively by using a one liner motivational text.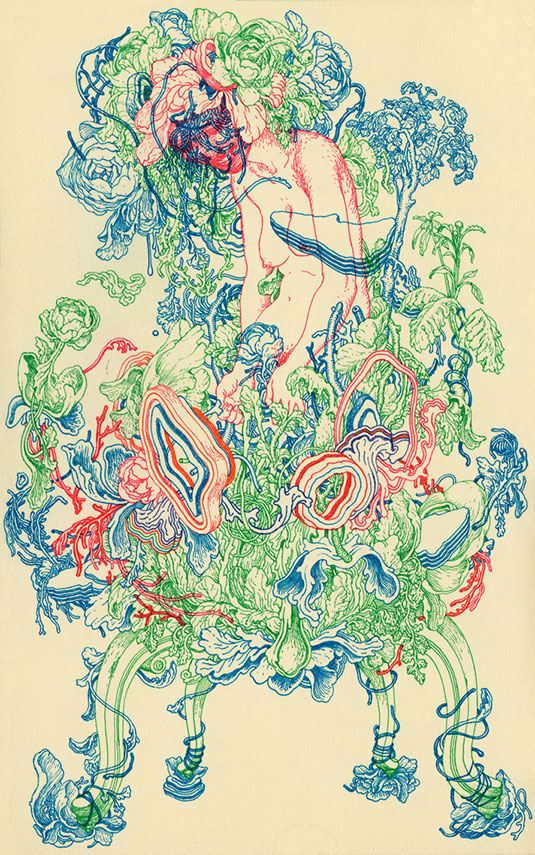 James Jean retired in 2008, leaving the illustration world behind he redefined himself as a fine artist. Whilst known for his award winning DC Comics cover illustrations, commercial work for Prada, and now critically acclaimed paintings, the Taiwanese American artist's sketches are also truly to die for.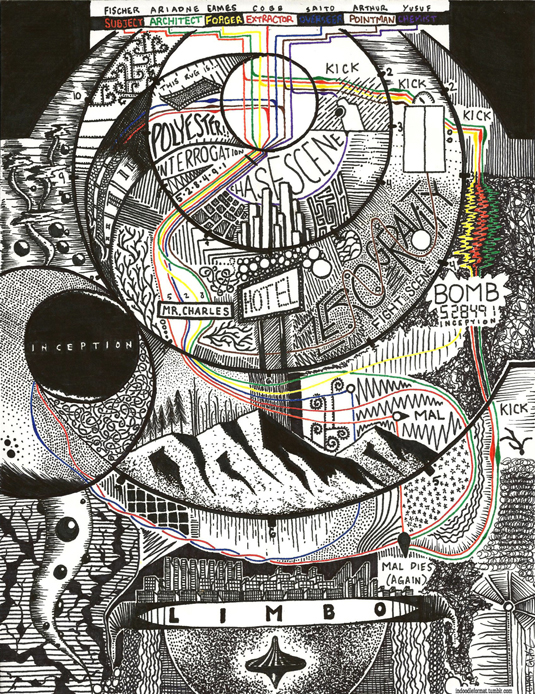 We're big fans of 3D movies here at Creative Bloq, so we we're thrilled to find this series of movie doodle art by US-based artist Chris Glasz.
Owner of Tumblr blog In Doodle Format, Glasz has chosen a number of popular films and illustrated them as creative doodles. Often using just a simple black Sharpie, so far, the talented artist has celebrated 11 well-loved films, including Back to the Future, Lord of the Rings, Harry Potter, and Inception (above).
We're a little in love with these illustrations, which are far more original than most of the fan art we see. It's also hard not to be a little in awe of this guy's talent with a Sharpie.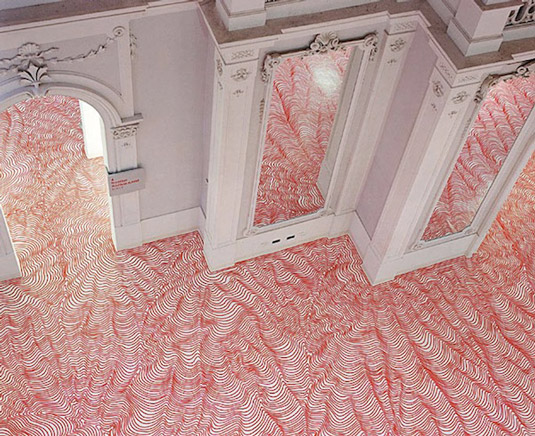 Not only is Germany-based artist Heike Weber a bit of a whizz with a permanent marker, she must also have the patience of a saint when creating these mesmerising repeat pattern installations.
Weber creates her artwork by tracing thousands of lines on the walls, floor and sometimes even the ceiling of the space she's decorating. Starting by drawing the pattern on a sheet of paper, she then transfers the design onto each surface.
They may look like pretty random designs but Weber very carefully selects the amount of white space between each line to give the impression of movement. We can't even begin to imagine how long these painstaking installation take to complete – we wonder if Weber felt as dizzy creating them as we do looking at them?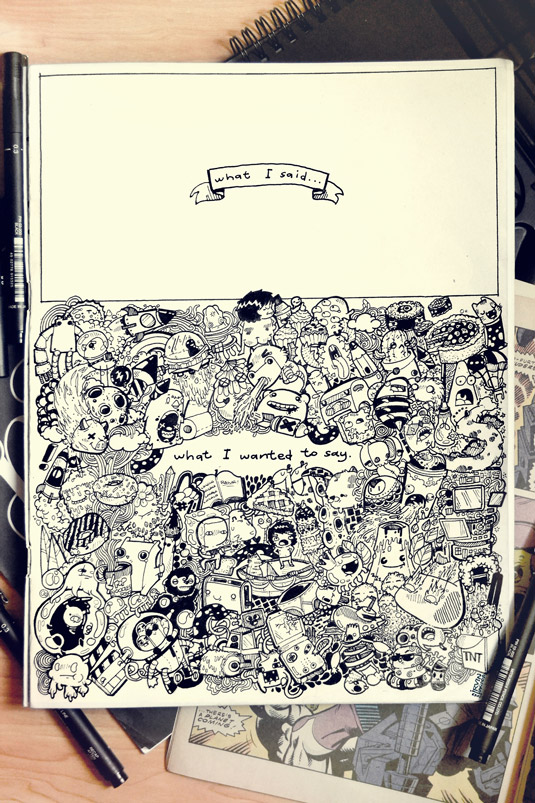 Student Irvin Ranada currently studies Fine Art at the Far Eastern University in the Philippines. In his spare time, he's an avid doodler and has creating numerous, intricate doodle illustrations. A master of composition, Ranada's drawings are a perfect reminder of just how special doodle art can be.
Additional contributions from Jim McCauley, Sammy Maine, Beren Neale, and Edward Blake Edwards. This is an updated and extended version of an article that previously appeared on Creative Bloq.